eHouse Smart home Sold Out
Smart Home eHouse LAN - assembled professional Mini Switchboard 1 Segment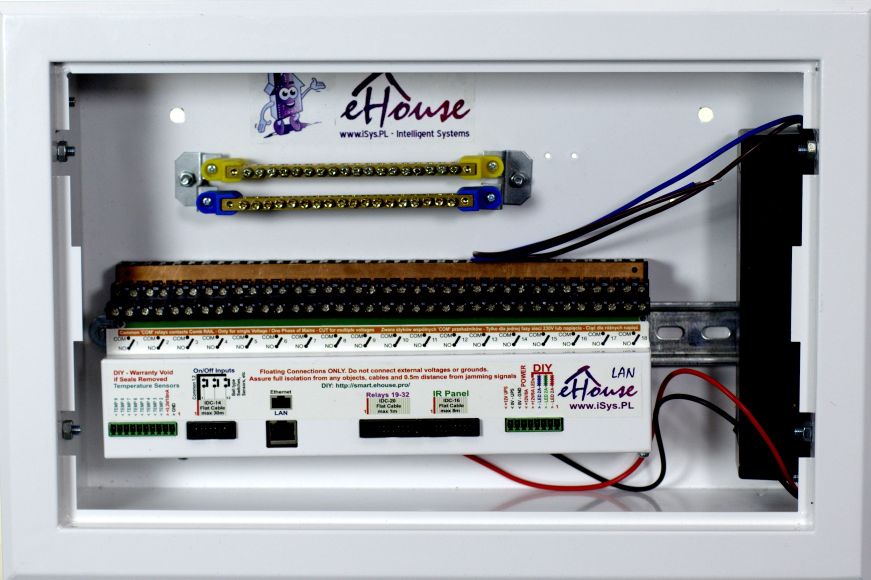 The Mini Switchboard includes:
infrared IR panel: broadcasting, reception, temperature and lighting sensor + 8m flat conductor
relay module containing a set of low-voltage connections and a contact bus - 18 professional relays with DIN sockets: 230V/16A
LED 230V power supply 12V/8A
electrical box 18 modules (option in BOX version)
EthernetRoomManager LAN controller in the Mini version
set of eHouse software. LAN / RS - 485 (PC, java, Android, Linux: eHouse4CServer, eHouse4Apache) to download
flat conductors / sensors 10m
Advantages:
minimization of the number of wires and cabling inside the switching station
no electronics in the sockets together with 230V voltage: dangerous to puncture high voltages to electronics, of fire, electric shock, damage to the entire system
long life of controllers (10 - 15 years): no aging elements
Professional relays with DIN rail holders: many times more durable, with much greater insulation than high voltages than small ones installed in electrical boxes, simple assembly and replacement
each segment galvanically separated from another: damage to one does not damage others, Easy service and access without switching off the entire system
installation directly in controlled rooms: many times less 230V cabling and work inputs, natural division into rooms
very simple and quick assembly (possibility of self-assembly) 2 - 3 hours:

connection of relays contacts to actuators
connection of 230V voltage to the mini separator
placing the infrared panel on the opponent's HiFi equipment and splitting the flat conductor (optional)
distribution of flat conductors of switches / sensors between electrical boxes (option)
connection of LED / RGB 12VDC lighting (option)
The switchgear can be connected in:
homes
buildings
apartments
hotels
pensions
apartments
offices
boats, yachts
In a low-budget version of the system, it is recommended to use a minimum of 1 switch to the floor.
The promotion includes:
a mini-switch with a controller and relays
PC software (Linux, Windows, java, WWW)
eHouse4cServer software with an annual update
software for one Android control panel for smartphones and tablets - gratis
initial software configuration of the system
everything in the price 2,900 - PLN 4,500 / net depending on the number of available outputs
If you purchase the system in the Comfort version, prestige or VIP offer:
a mini-switch with a controller and relays in the price 2900 - 4500 2300 - 4200 PLN / net (per piece) depending on the number of available outputs
PC software (Linux, Windows, java, WWW) - gratis
eHouse4cServer software with an annual update - gratis
software for Android control panels for smartphones and tablets for any number of panels - gratis
initial software configuration of the system - gratis
consultation and training on the construction site (max. 100 km from Warsaw) ~ 1 day - gratis
---
ERM Standard
includes:
smart home Ethernet driver eHouse ( Smart House eHouse - EthernetRoomManager )
up to 32 outputs with relays, 220V / 16A
12 inputs for connecting the switches, sensors
8 measuring inputs, e.g.. for measuring and adjusting lighting, indoor temperature and control of individual heating
an infrared transmitter for controlling HiFi equipment, Audio - video
an infrared receiver for controlling the system
Welcome to the store:
intelligent home distribution
assembled.
---
---
The action of airing warehouses - sale until stocks last
---
Smart House eHouse LAN. Wholesale promotion - Plumbers:
EthernetRoomManager DIY 10x (Rev. 3 Standard Date of production 2016. 05)
We sell packets of 10 ERM3 DIY in a version with built-in drivers for 12V / 2 dimmers. 5A, new, tested
in price per piece
1350 800PLN / net
. The number of packages is limited - until stocks last.
Smart home
---
Modules of MP relays - 32 (32 relays 230V / 10A) (sold out - PCB version for £ Clothing and Yachts)
Set
500 200 PLN / net
without relays or
300 PLN / net
with relays.
We invite you to direct contact
Smart house manufacturer
your cooperation
Current promotions and offers can be found in our online store:
Smart House eHouse Shop
---